Lonely Dog Vintage Posters
Transport yourself into the extraordinary world of Lonely Dog! We are excited to announce the release of a collection of four new Vintage posters. These can be purchased as a suite or individually in various sizes.
These artworks emulate the distinctive quality of vintage screen prints complete with ink bleeds, foxing, blemishes and perfect imperfections. Ivan has laboured to create something bespoke and collectable that goes against modern trends of computer generated graphics – you will see it in the detail. As well as the smaller options, these artworks are designed to display as stunning large statements in high resolution and they look great in a companion suite.
The finished artworks are printed with light-fast inks on archival canvas in the same Giclee process as all Ivans editions and can be framed with, or without glass and come with a life-time guarantee.
Available in four sizes – XL, L, M, S.
We ship Artworks world-wide.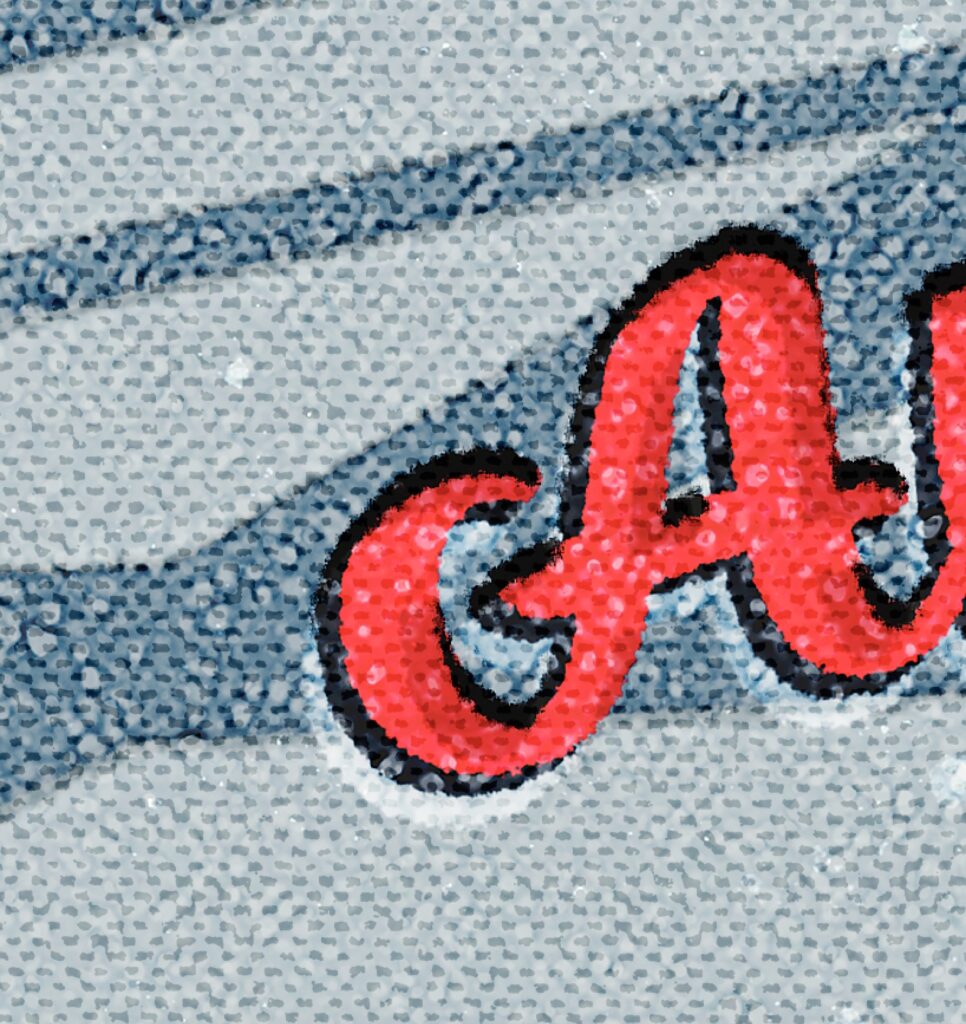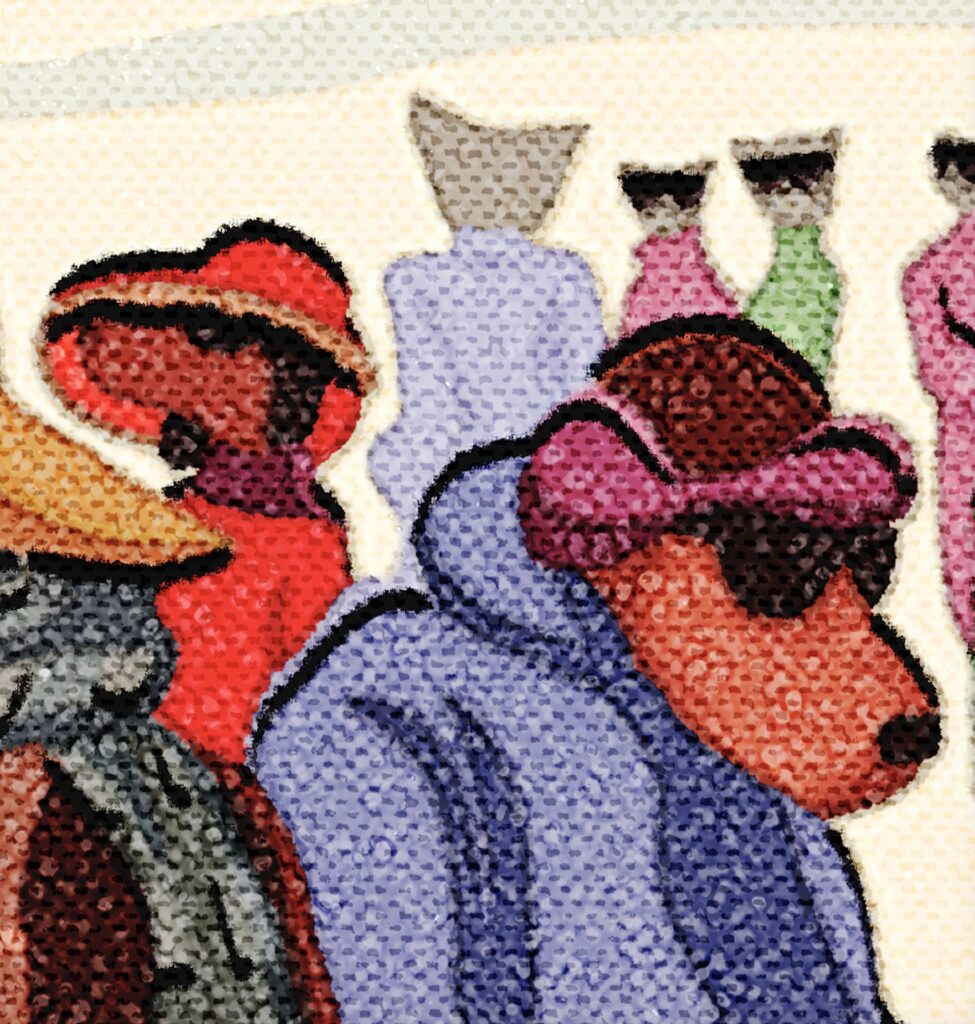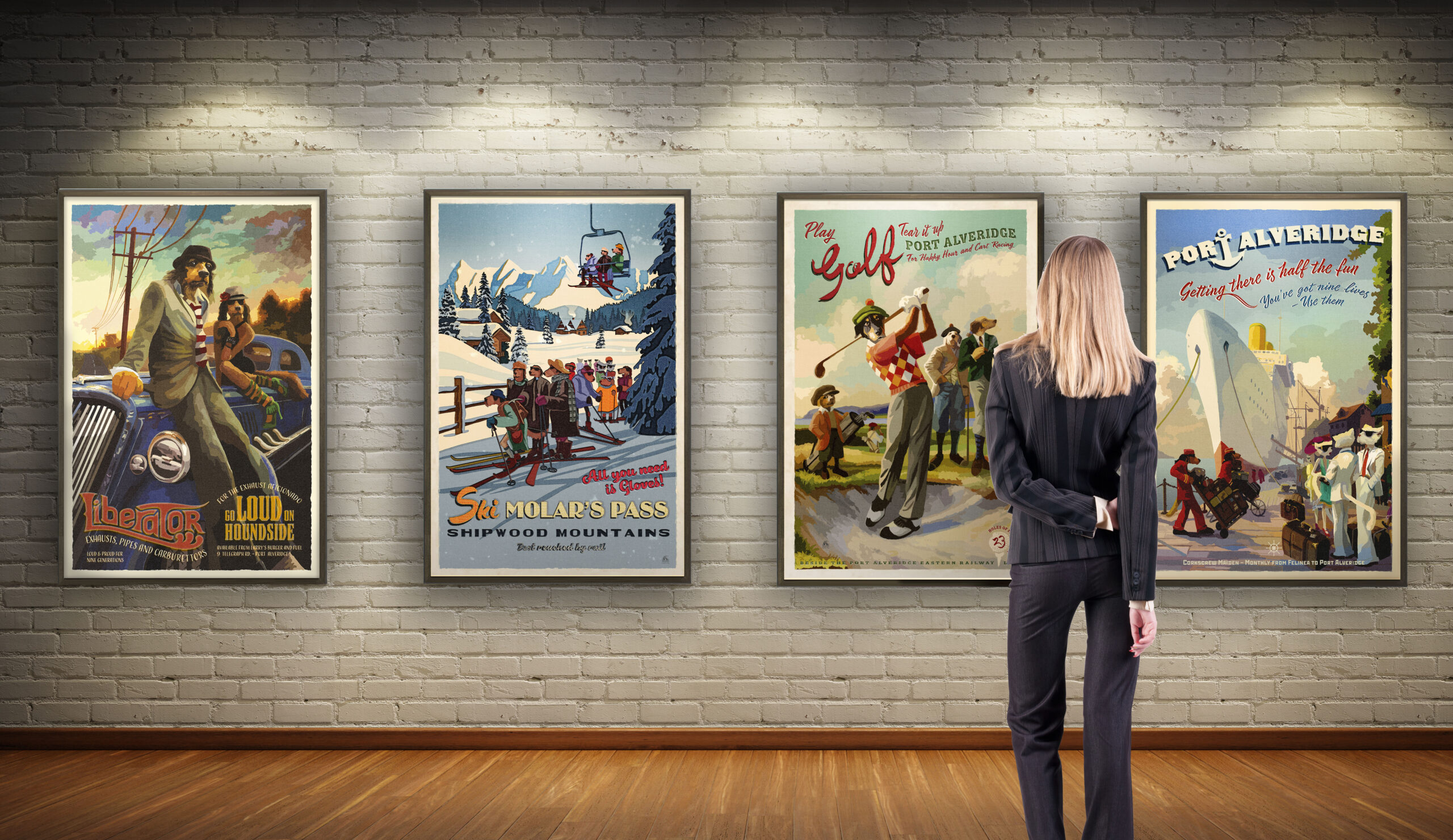 I remember well, when it seemed that art always came dressed in gold frames and the buyers with the purse, seemed to come dressed in Cashmere and pearls.
Times have changed.
This has encouraged me as an artist to venture further out there, not only into a complete fantasy world but to imagine new and exciting artworks that give people a free pass to another world.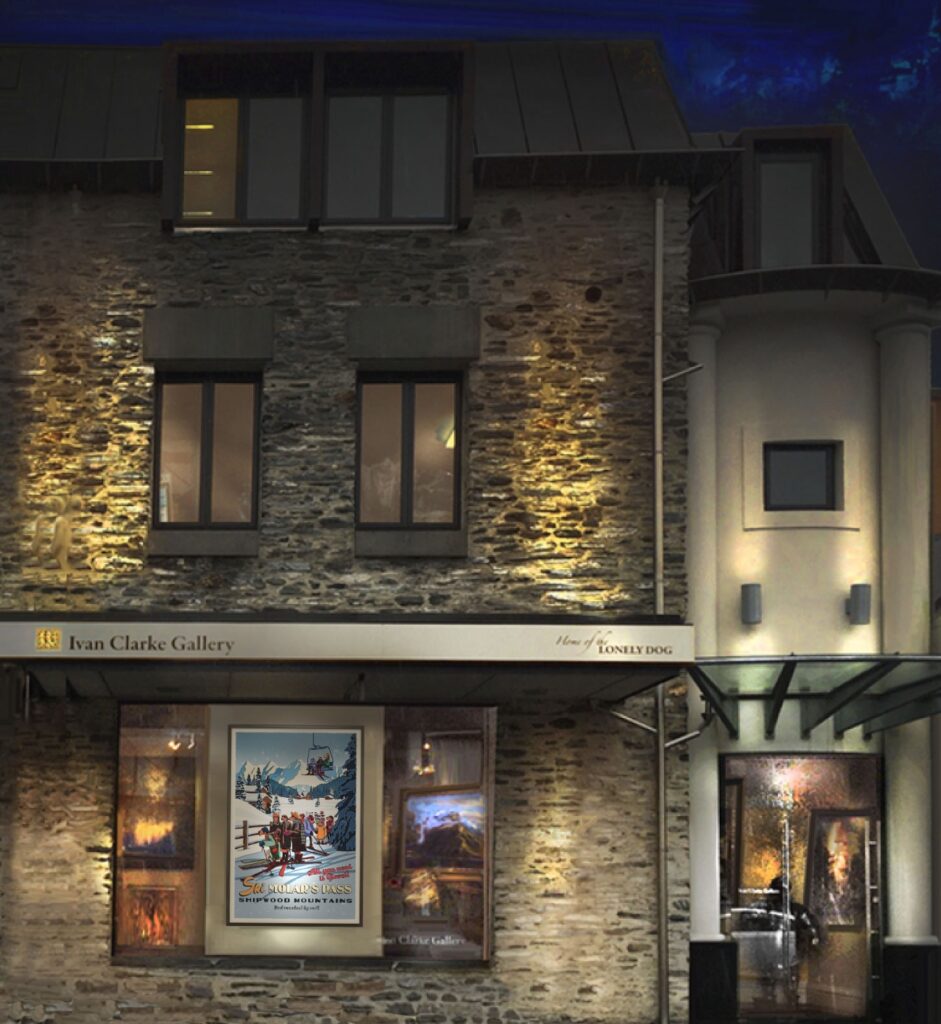 The " Jacket and Tie" series printed with light-fast pigments on watercolour paper has become hugely popular.
This new limited edition icon comes with an original Alveridgean Paisley design giving homage to the whales that reside in the Esparrow sea. The imagery even gives a nod to the Delta Blues.
All printed on 300 GSM archival art paper.

Lonely Dog Immersive - Coming to Orlando!!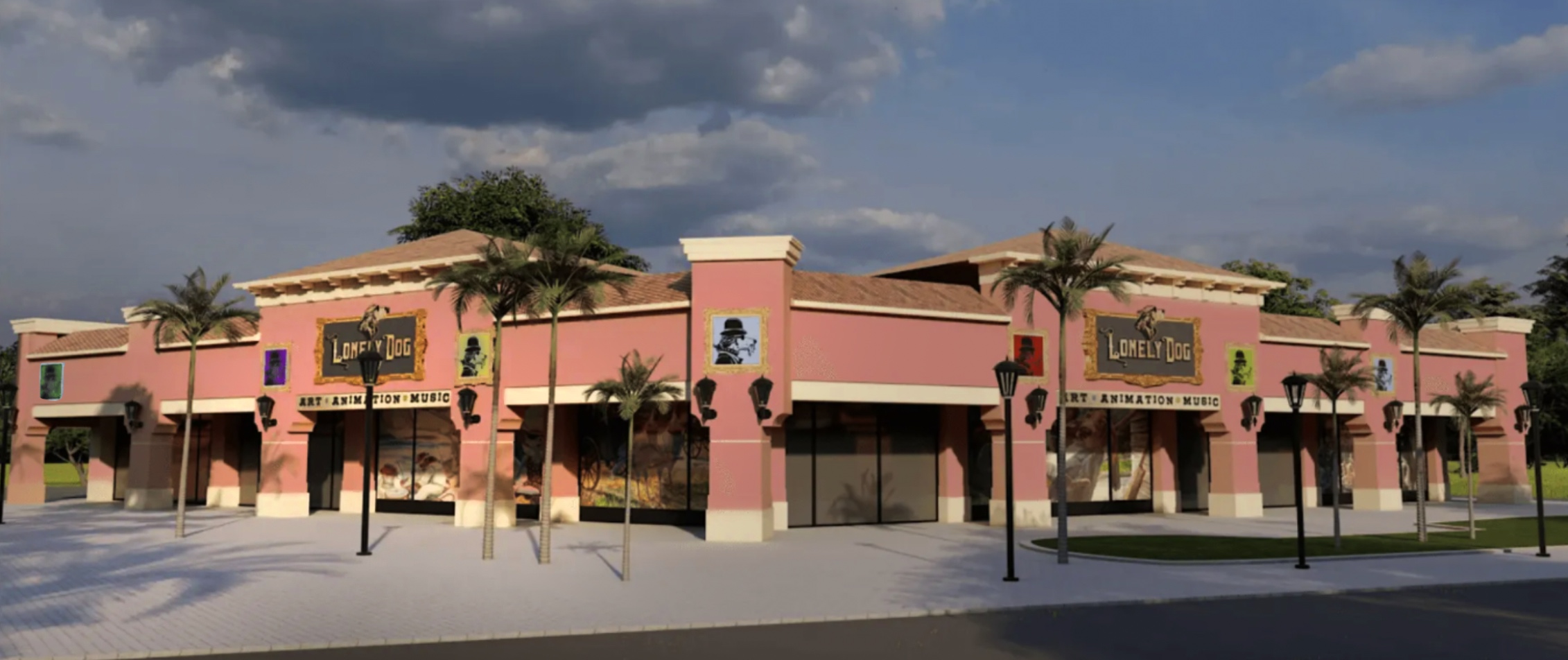 The Lonely Dog Immersive Experience, located at 4950 International Drive, sits at the North end of I-Drive. It's a stand-alone building near to Universal Studios and adjacent to the Orlando International Premium Outlets with abundant parking, easy access, and accommodation for up to 400 people. It is currently being painted and fitted out as this is written.
We understand that the opening event has been estimated to be some time around November 2022. Opening details to follow.
This multi-media entertainment event has been produced in collaboration with Jumping Frog Entertainment (USA) and Centrica, (Italy) and MetaVerse Immersive (USA) who have been leaders in creating art immersive experiences that have travelled Europe and Asia.
Lonely Dog's world will captivate viewers with the addition of original music, compelling story, along with 3D CGI and 2D animation.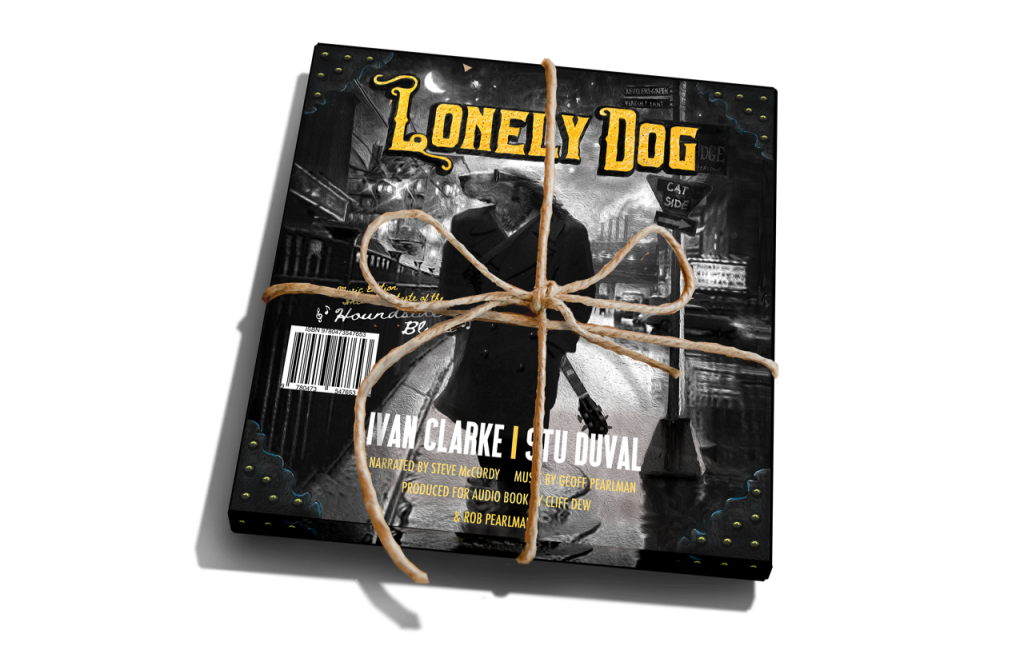 Curl up under a Tumbleroot and listen to the aged, smooth voice of Irish story-teller Steve McCurdy. Pour your favourite drop and snug down a while and listen to a kids tale written for grown-ups.
Beautifully embellished with all original songs and music. This exciting Audiobook version of the novel includes a taster of over 20 original Lonely Dog songs.
This is a family fable of finding purpose amidst social division, it is highly relevant to today's world.