NEW RELEASE - "Skiffle Nights"
Skiffling, Moshing, Jiggering & Jigging
It all goes down at Molars Post
gateway to the Shipwood Mountains.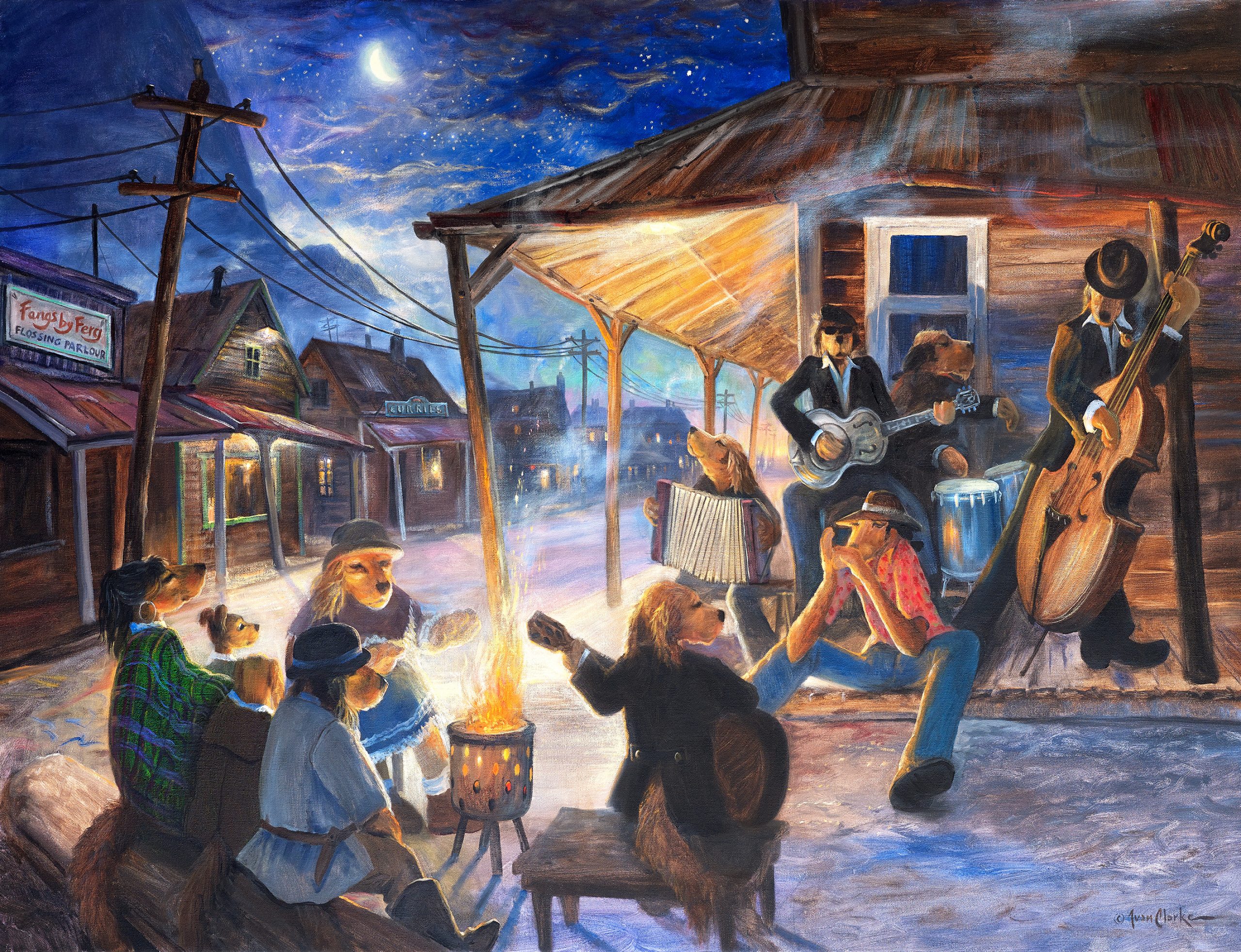 This new artwork is now available as a Limited Edition Giclee printed on archival canvas with lightfast pigments.
Available in three sizes plus hand-textured Artists Proof (A/P)
PRE-RELEASE SPECIAL OFFER 50% OFF - ORDER NOW
For a limited time only!
Prices will change to retail without further notice. We ship Artworks world-wide.
(Pre-Release discount does not apply to "Lonely Dog in Gold Pinstripe")
NOTE: There are only 35 A/P editions produced. They are hand textured, and identical in size and every other way indistinguishable from the original painting shown.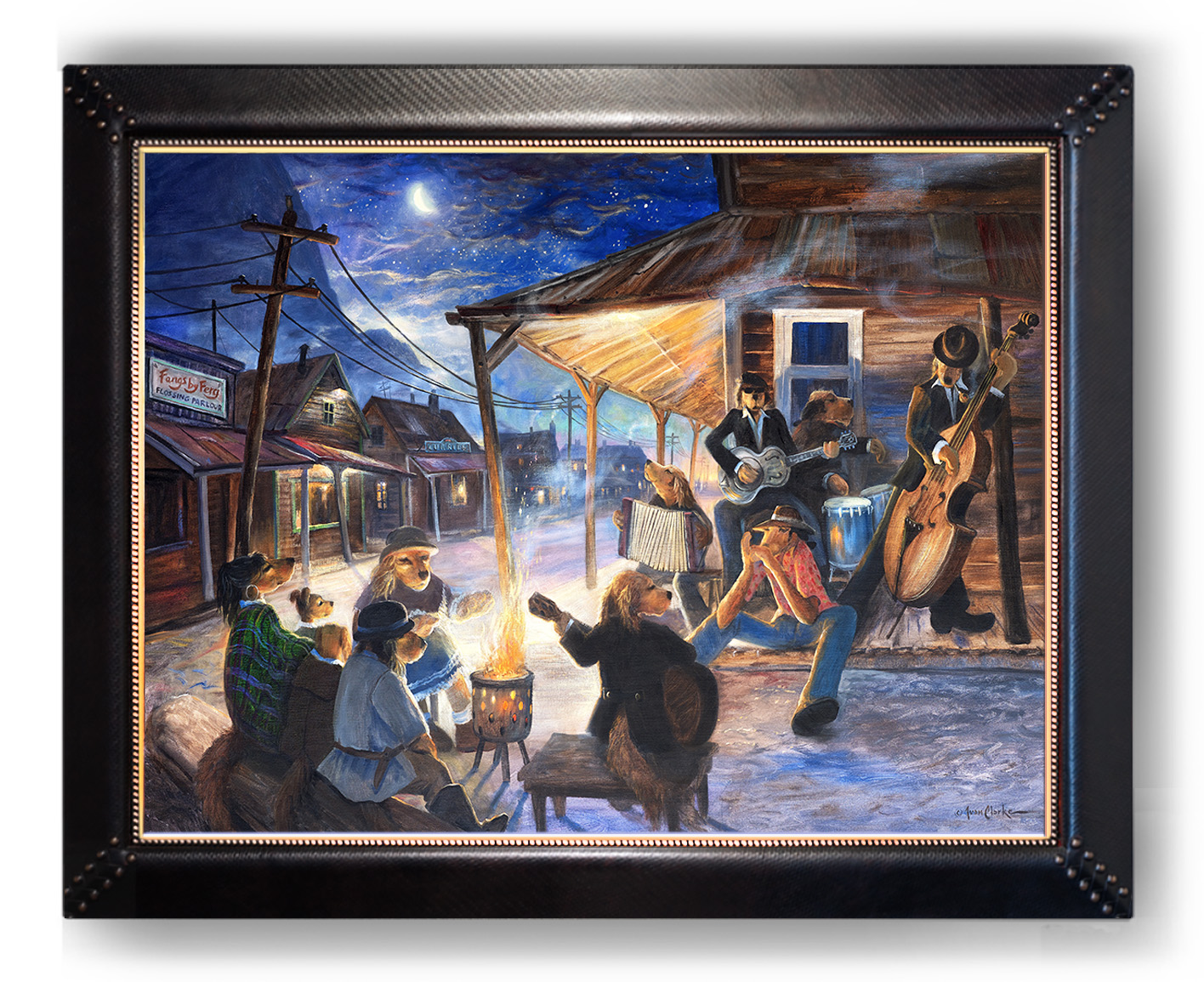 This new painting is one of the many that CENTRICA will be bringing to life at the Lonely Dog Immersive Exhibition
"Skiffle Nights" transports viewers to Molars Post, a small mining town that briefly became home to Lonely Dog – a fugitive on the run.
Meet my dapper little mate Kev, the Whippet. He looks great in his turtle neck don't you think? He's fast and he knows it.
LONELY DOG IMMERSIVE – Launching in Orlando Florida – April 2022!!!
Details to follow. This multi-media entertainment event has been produced in collaboration with Jumping Frog Entertainment (USA) and Centrica, (Italy) who have been leaders in creating art immersive experiences that have travelled Europe and Asia.
Lonely Dog's world will captivate viewers with the addition of original music, compelling story, along with 3D CGI and 2D animation.
Ivan Clarke Gallery Director Wilma Nehoff, who has been with us for the past fifteen years has recently retired. We wish Wilma well as she has been highly valued and much loved by many.
We welcome Florence Paterson who has stepped into her position. Florence is not new in the Art-world and is very knowledgable. She has assisted us for the past seven years. Please don't hesitate to contact Florence.
EMAIL [email protected]
NFTs, CRYPTO, BLOCK CHAIN...What...Hello...Don't Worry!
This is still Greek to the masses, but to those a little more Tch-minded with an eye on the world… and "investors" that have investment minders looking out for them, there's a growing consciousness of NFTs (Non Fungible Tokens) as a unique way to invest in Art. Like it or not NFTs are here to stay.
The Art-world is currently experiencing this phenomenon. We are witnessing the highest prices paid EVER, for living artists works. Now ownership can transferred securely on the Blockchain proving provenance and ownership can be guaranteed, a bit like a deed of title and storage and safe keeping is no longer an issue. NFT art sales have taken off, BUT… BUYER BEWARE not all NFTs are created equal. Remember the Tech BOOM when any Tech start-up was a sure investment. Tech stock would trade higher and higher… and then came the day of reckoning. What emerged from the rubble and still stands today were real Tech investments of real value. Likewise, inevitably the charlatans will ultimately be sorted.
Meet Bluey the $7.5 Million Cryptopunk.
The original is entirely digital and is able to be kept on the owners phone… (he might have named him differently). Even if the phone is lost, don't worry it's still safe in a cloud no doubt.
But that's not all, there's also 9,999 others Crypto Punks similar as part of the family. You can own one or as many as you want, that is if you can afford one. Prices start about circa $225k USD. and that's probably a bargain because I note that Sotheby's just sold one for over $10mil.
Got it?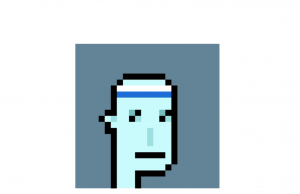 "I'm Bluey"
I will briefly attempt to enlarge, but only because there's a compelling example right here in front of us.
The original artwork "Lonely Dog in Red Tie" (similar to accompanying image "Lonely Dog in Gold Pin Stripe") – does not exist (DOES NOT EXIST) in the physical world, as it was created digitally.
However, it does exist as 450 physical printed Limited Editions that are printed on archival paper and now sold-out and framed and hung in peoples places and enjoyed. Yes they can increase in value but there's only one original – I own it, it lives on my computer. If someone stole my computer and tried to sell the original, it's worthless as they would have no clean title of ownership, it belongs to me – the creator. Yes images of it that appear like on this page that can be screen-grabbed and borrowed without asking or stolen, but the real ownership of the high resolution image belongs to me.
Nowadays through NFT ownership and secure blockchain technology I can sell a digital image like this to a buyer if I wish to, whom may then trade in the future if they wish to. The big question is what is this digital original really worth now and what might it be worth in two years time, or ten?
I don't know.
I could go-on but not now. Prestigious Art Auction houses like Sotheby's and Christie's are now actively trading NFT ART.
To those who have already enquired and also those that are interested in NFTs, yes we are currently engaged in preparation for an up-and-coming NFT event that will be truly unique.
We are expecting to be able to make an announcement later in the year – WATCH THIS SPACE!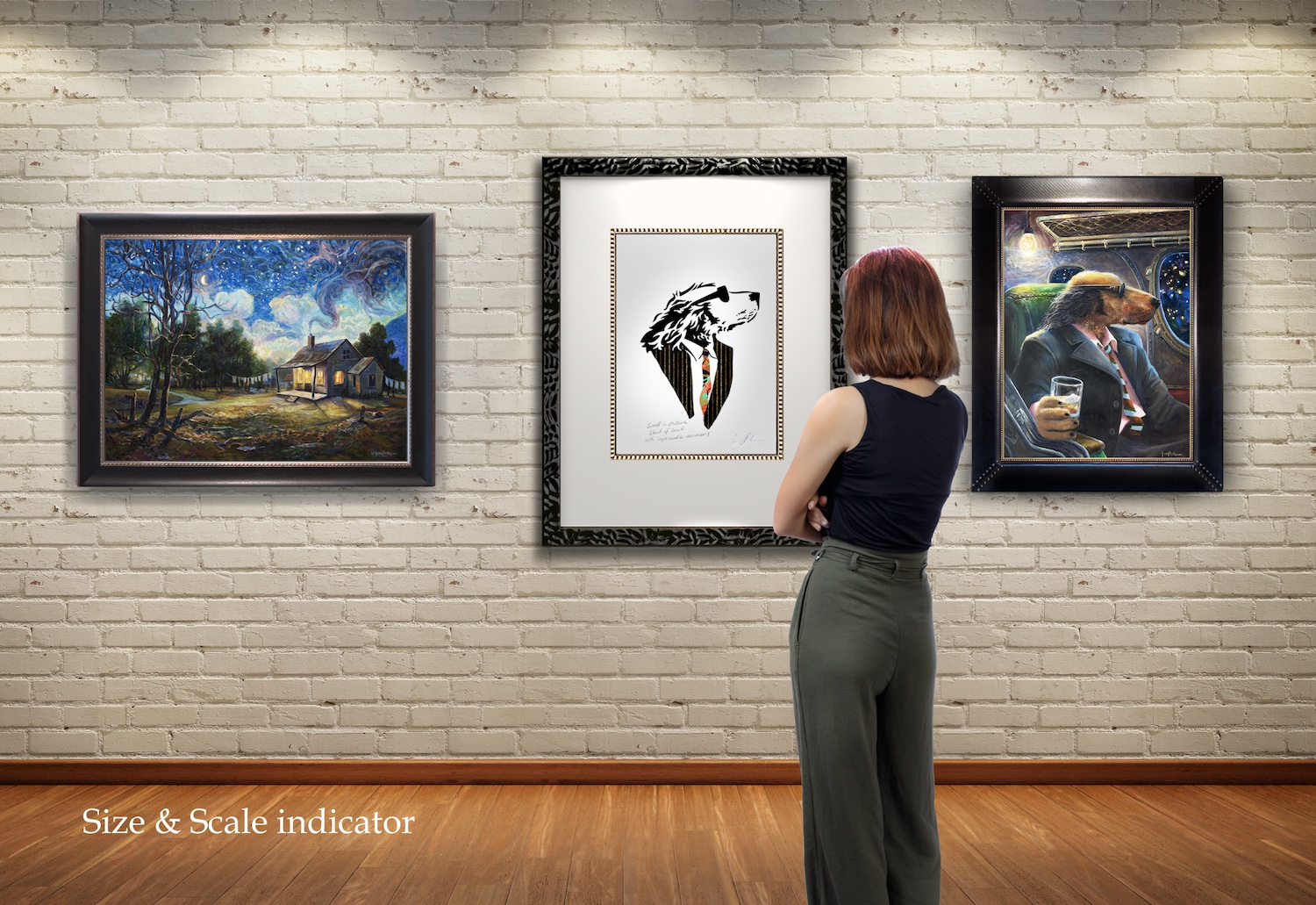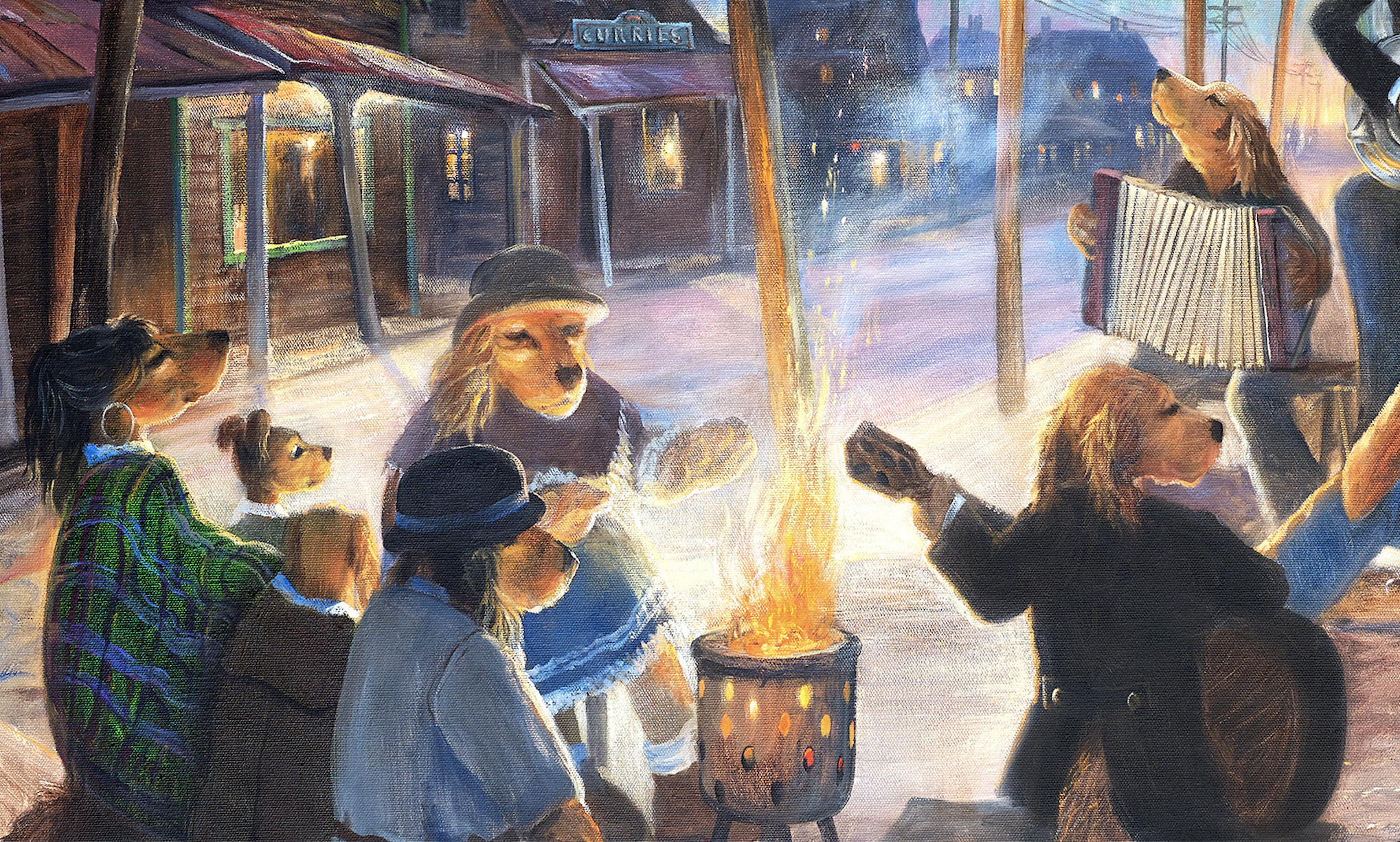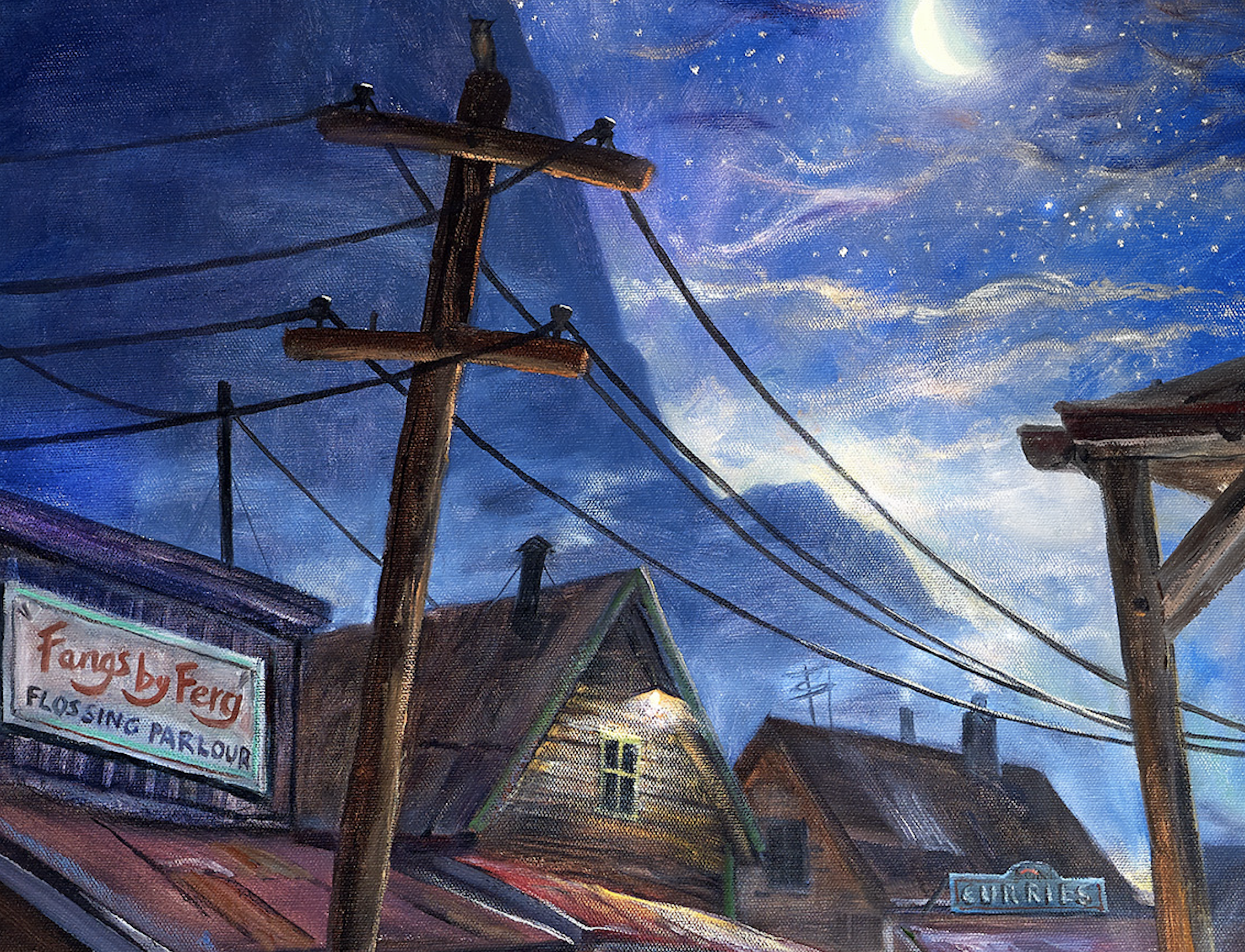 "Lonely Dog in Gold Pinstripe"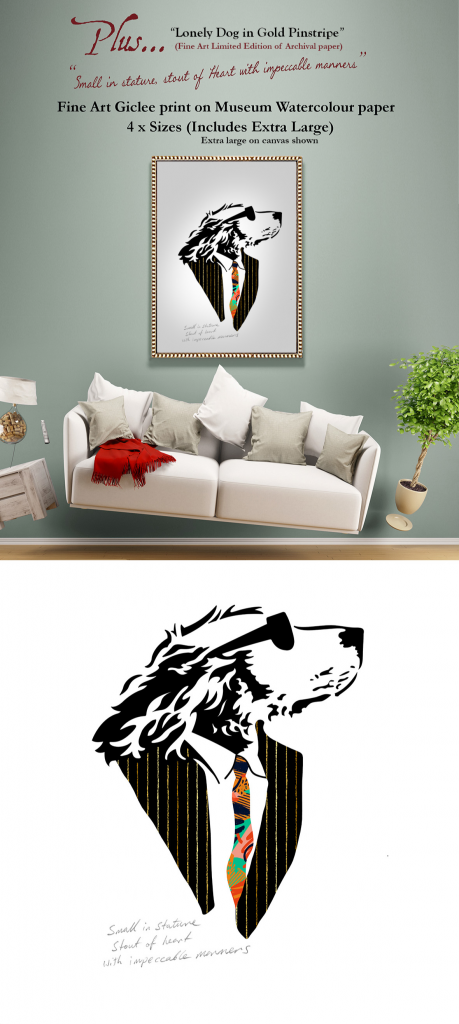 The "Jacket and Tie" series printed on archival watercolour paper has become hugely popular. In time this may well become an art icon that's highly collectable.
"Red Tie" is now sold out, thanks to those that have been enquiring and patiently waiting.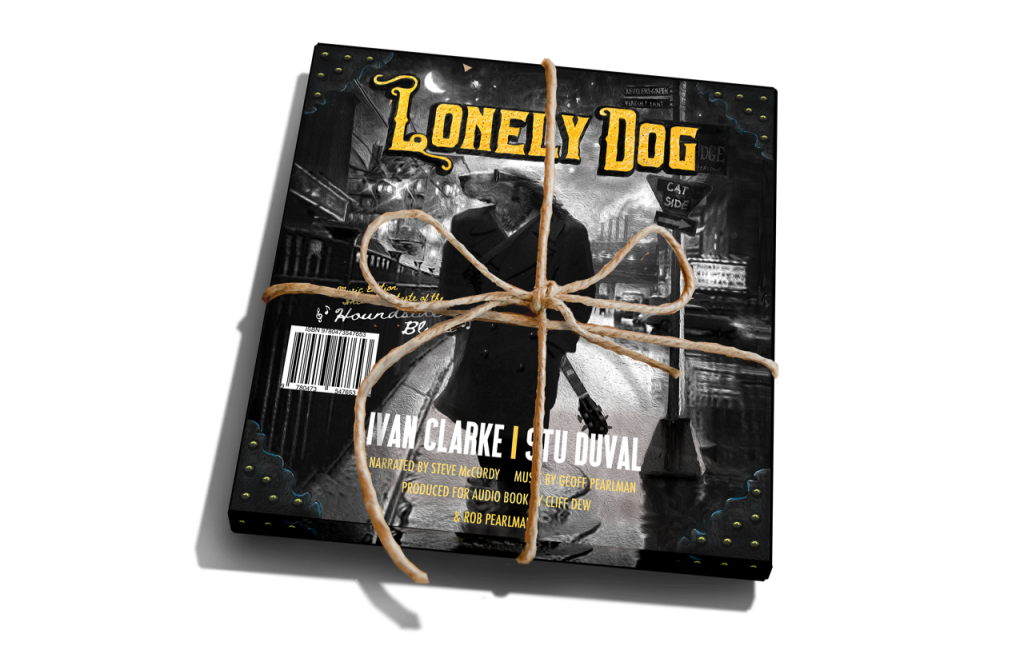 Curl up under a Tumbleroot and listen to the aged, smooth voice of Irish story-teller Steve McCurdy. Pour your favourite drop and snug down a while and listen to a kids tale written for grown-ups.
Beautifully embellished with all original songs and music. This exciting Audiobook version of the novel includes a taster of over 20 original Lonely Dog songs.
This is a family fable of finding purpose amidst social division, it is highly relevant to today's world.